Mission statement:
To provide fitness programs that help improve the health of individuals in the Pueblo of Jemez through recreation and fitness.
Services offered:
Personal training
Group fitness training
Youth after school programming
Annual youth summer recreation program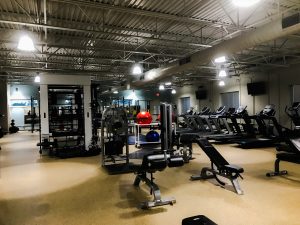 Intent:
To provide fitness programming to increase positive health outcomes
To provide safe and secure afterschool programming for youth
To provide personal training for individuals
To provide a safe summer recreation program for youth
To provide group fitness classes for the community
Admittance is by appointment only
Appointments can be made by using the MindBody App on a smartphone or by calling our maine phone number.
Services Provided: Appointment-only workouts, personal training by certified trainers, group fitness classes, and a dedicated appointment slot for seniors only. All services can be accessed on our MindBody App or by calling our main phone number.
Contact Information
Charles Sandia
Program Manager
(575)834-7059
Charles.Sandia@jemezpueblo.org
Walatowa Fitness Center
145 Bearhead Canyon Road
Jemez Pueblo, New Mexico 87024
Fitness Center hours:
Monday – Thursday, 6:00 am – 7:30 pm
Friday, 6:00 am – 6:00 pm
Saturday – Sunday, 6:30 am – 2:30 pm
Walatowa Youth Center hours:
Monday-Thursday, 8:00am-7:30pm
Friday, 8:00am-6:00pm
Closed on all Pueblo of Jemez recognized holidays, occasionally closed for cultural days